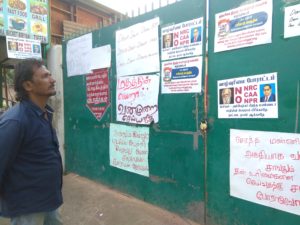 To prevent the spread of Coronavirus, the anti-CAA protest at Kutchery Road has been suspended till the end of this month.
Since March 6, the Muslim community, mostly women held a sit-in protest near Jumma Masjid to protest against the CAA (Citizenship Amendment Act), NPR (National Population Register) and NRC (National Register for Citizens).
Now, the gates of the protest area have been closed. The posters featuring 'No CAA, NRC and NPR' and other anti CAA slogans are seen outside the gate.
Said Habeeb, a shopkeeper on Kutchery Road, who was a part of the protest, "To prevent the spread of Coronavirus, we have suspended our protest till March end."