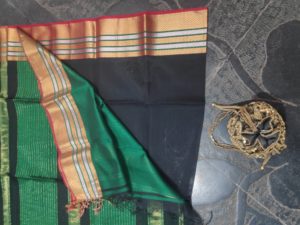 SHOPPING
MADHYA PRADESH TEXTILES
Mrignayanee store in Luz which promotes textiles of Madhya Pradesh has a 35% discount on all its stocks for sales on March 7 and 8. Chanderi,  Maheswari, Tussar and crepe, Chiffon, Georgette sarees & dress materials, cotton Batik/hand block-printed/Bagh printed sarees & dress materials are stocked here.
At 180, Luz Church Road, Mylapore (adj. to Navshakthi Vinayagar Temple). Ph: 94441 20027
WOMEN'S BAZAAR
A Womens Bazaar, where entrepreneurs showcase and sell the products they make or source is on till March 9 at C. P. Art Centre's two galleries. A variety of clothes, a variety of crafts – handmade and otherwise, foodstuff and home accessories are on sale. Also, showcasing of tribal crafts – Kota pottery, Kurumba paintings and bamboo decorations and utilities. Open 10 a.m. to 7 p.m. At Eldams Road, Alwarpet.
DESIGNER JEWELLERY. HOME PRODUCTS.
Manjushaa, the online jewellery store run by sisters Ayshwarya and Soundarya is hosting a pop-up sale of their latest collection on March 7 at Curio Play in Alwarpet. 11 am to 7 pm.
Special is the unveiling of the RaGa jewellery collection by the inspiration behind this collection, well-known classical music artistes,  Ranjani and Gayatri.  Says Soundarya, "We offer a perfect mix of jewellery designed by us and sourced from all over India."
At No.3, Ananda Road, Alwarpet.
MISCELLANEOUS
TALK: CAMBODIA HERITAGE
Arvind Venkataraman gives an illustrated talk on 'Heritage Sites of Cambodia'. At Arkay Centre, March 7, 5.30 p.m. onwards. Open to all. Tamil Heritage Trust event.
PARENTS, KIDS PAINT. WORKSHOP.
Parents and their kids can sign for this Holi-theme painting workshop on March 7, 4 p.m. at Wandering Artist, R. A. Puram. Paid event. Register at 88258 51263.
DIM SUM FOOD FEST
Chap Chay restaurant at Hotel Raintree, St. Mary's Road is hosting a dim sum food fest called Yum Cha. Over 50 varieties of dim sum on the menu. On for lunch and dinner, till March 22. Call 42252525 for reservations.
MUSIC. ENTERTAINMENT.
LIVE SHOW
Carnatic music vocalist Sushma Somasekaran has ventured into producing an album that goes beyond classical music. There are four tracks on this EP album called 'Sa' and its formal release is on March 8 with a  concert that features Aditya Prakash ( vocals), Sumesh Narayanan ( percussion), Sayee Rakshith (violin), Aditya Srinivasan ( tabla) and David Abinandan (guitar) with Sushma of course.
At Off Beat studio, 161, 1st Main Road, R. A. Puram ( SBI Colony). 5 p.m. onwards.
CONCERT TRIBUTE TO WOMEN
Swaraanjali presents 'Shakti', a musical celebration with Carnatic, devotional and film songs. Organised by Viswas Media. At Lakshmi Giri hall, N. Mada Street, Mylapore. On March 7 @ 6:30 p.m. Open to all.
COMEDY BY THE LADIES
Soco at the Bamboo Bar of Hotel Savera hosts a bunch of women comics – Chetna, Praviksha, Syama, Shristi and Anusankarai – to let go and tickle you as you sip a cocktail/cocktail here. March 8 evening. For adults only. Call 9003931590. Ticketed show.
PLAY ON SRI RAMAKRISHNA
Bombay Gnanam presents her artistes in 'Bhagavan Sri Ramakrishna Paramahamsar' on March 7, 8 and 9, 7 pm daily at Narada Gana Sabha, Alwarpet. This Thamizh play that narrates the high points of the Bhagavan. Call 8939298790.