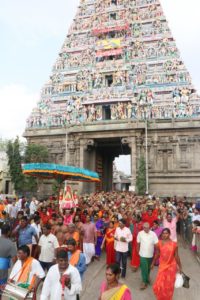 Hundreds of women took part in the 'paal kudam' procession and milk abishekham to the amman at Sri Kolavizhi Amman Temple in Mylapore on Sunday morning.
1008 pots filled with milk were readied inside Sri Kapali Temple which was the venue for the start of this procession. The 1000-plus women who had booked their participation in this annual ritual queued up to receive and carry the milk pot in the procession that ended at the Kolavizhi Amman Temple.
Thereafter, the milk was used for the marathon abishekham of the goddess.