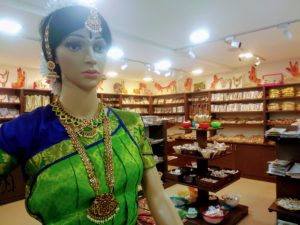 From combs and hairpins to dance costumes and practice saris, this shop in Mylapore has all items that a classical dancer might require during a performance.
Called Mehabooba Dance Collections, the shop opened recently on Luz Church Road next to Palam Silks here.
Dance essentials for classical dance forms, including Bharatanatyam, Kuchipudi, and Kathak are available for sale here.
Two cousins – Mohammed Sadak Thambi and Mohammed Farook first started the brand 30 years ago at Chennai's George Town.
This is their third outlet in the city.
Spread across two floors, the shop sells a variety of antique jewellery, temple jewellery and kemp jewellery. Says Riyaz, the manager of the store, "The temple jewellery is available in gold-plated and first-quality silver metal." A range of make-up items and books on the dance forms are also stocked here. Some of the titles include – The Bharatanatyam heritage, Dance gestures, and Nattuvangam.
The shop also offers a variety of dance practice saris (cotton, printed, and silk) and costumes (pure silk, China silk). Saris are also available with border designs that feature different dance mudras and gestures. The unique feature of the shop is that customers can walk around, look and feel the items before buying them. They can make use of mirrors and the changing room to choose the items that best suit them.
The shop provides free delivery in Mylapore. They also take bulk orders for practice saris. The price of practice sari starts at Rs. 400. At 66, Luz Church Road (Inside the complex of Shakti Enclave) Mylapore. Open on all days. Timings: 10 a.m. to 8.30 p.m.