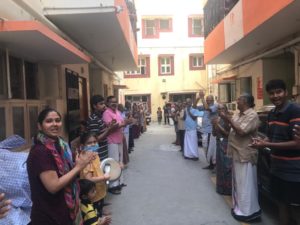 People came out on their balconies and terraces to ring bells, tap steel plates or just clap their hands across the Mylapore area – as suggested by prime minister Narendra Modi as a mark of appreciation for all those who are in the front line of the battle against the corona virus.
On North Mada Street, as we recorded the scenes of empty streets, the claps began at about 5 p.m. from residents of this street – some on balconies and some on terraces.
The shops though didn't open as news went out that the curfew here was extended to Monday morning.
At Anand Flats at Ranga Road, Mylapore (seen in the picture), about 100 residents formed lines inside their complex and started clapping at 5 p.m., children were seen banging on plates with ladles. Arrangements were made for their flat bell to ring for five minutes as a mark of respect for the caretakers of the sick.