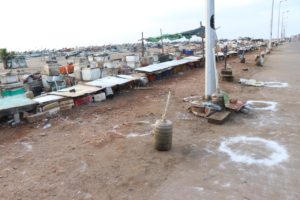 The fish market in open air Loop Road in San Thome has few hawker stalls open and shoppers are thin too.
Not many fish workers have been out at sea.
GCC officials have anyway marked circles in chalk for social distancing for shoppers. But on Friday morning, there were hardly any shoppers.
Last evening, GCC officials used a crane to spray disinfectant on the housing blocks in the kuppam. The blocks run from the Light House end to Srinivasapuram end.