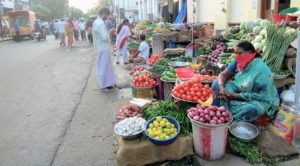 Following the lockdown, hawkers of South Mada Street say they face business loss as fewer customers are visiting the market on a daily basis.
Says Meenakshi, a vegetable hawker here, "Since the past one week, my earnings have gone down by more than 70 %. This is because fewer customers are stepping out to buy veggies. I have a mother and two small children to take care. I don't know how I will manage to meet my family expenses if this situation continues for a few more days."
Another hawker says, "Earlier many people visiting Sri Kapaleeswar temple would also come and buy veggies from me. But now as it is closed my business has been affected. I'm stocking only a few items, " he says.
As the business is low, some hawkers have also shut their shops.