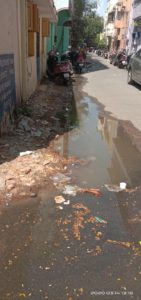 Residents of the area around Our Lady of Guidance Church on Lazarus Church Road complain that sewage keeps overflowing from the drains and pollutes  the colony and that Metrowater has taken only temporary measures to tackle this issue.
They say sewage from Malayappan Street flows through Kanagaraya Malayappan Street towards Lazarus Church Road. This happens every three or four days, says 
Dr. Cinthia Jude, a  r
esident of Kanagaraya Malayappan Street.
Other say that they have filed complaints at the local Metrowater office near West Circular Road, Mandavelipakkam.
"They come with their lorries to suck up the sewage but we dont know what they really do," says Dr. Cinthia.
"Once the water stops overflowing they leave but in a day or two it overflows again. There have been no proper steps that has been taken to fully resolve the issue, in spite of repeated complaints. The most disadvantage is that this sewage river drains at the rain water harvesting drains, " says Dr. Cinthia.
.
Most affected are students who attend a local tuition center and residents whose access is very close to the local streets where the sewage flows and pollutes.
– Photo: Cinthia Jude