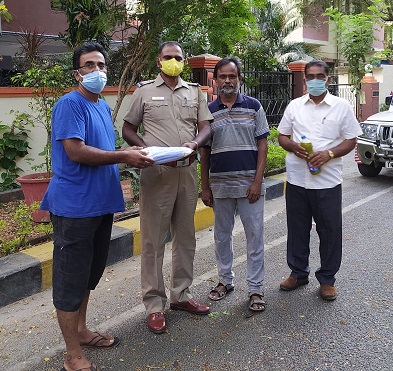 The members of Thiruveedi Amman Koil Street Residents Association (TAKSRA) have raised more than Rs. 40000 to help the civic officials in their ward (Ward 173).
K. L. Bala, a resident and an active member says, " Along with the community at R. K. Nagar, Mandaveli, we distributed about 100 three ply washable and reusable masks to the Mylapore traffic police team a few days ago. We also handed over 100 masks to the inspector at the E4 police station at Abhiramapuram (seen in the picture)".
He continues, "Most of the Ramky workers don't have breakfast, only lunch is arranged for them. To ensure that they don't stay hungry we are using the funds collected to give them breakfast in the morning. We are also planning to provide incentives to several daily wage workers, including those who iron our clothes and give us flowers".
The team also distributed home made soaps and sanitizers to the workers.