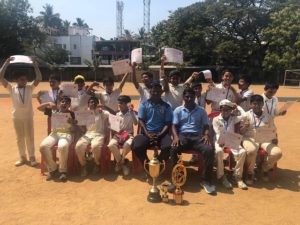 At the finals of the PSBB (K. K. Nagar) inter school U-10 tournament held in the city recently, the 'A' team from Vidya Mandir, Mylapore (seen in the picture) were declared the runners up.
PSBB Millennium beat Vidya Mandir by 10 wickets. Vidya Mandir's score in the finals was 138/6 in 30 overs.
Vidya Mandir has two U-10 cricket teams, A and B. Students from both teams are coached at the school  three times a week. The head coach of the A team is Arun Kumar.