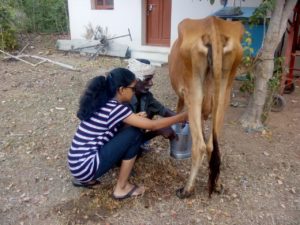 Sprouts Montessori School, well-known for its Montessori stream of education is hosting an event this March 6 evening where its children will share their experience with farming. The event starts at 5.30 p.m.
Says a note from the school which is based in Luz Avenue, 'As a Montessori school, we believe in connecting the soil with the early adolescents, just the way Dr. Maria Montessori envisioned. This is a cosmic approach into academics, keeping in mind the physical, emotional, spiritual and intellectual needs of the children.'
'Towards this, our school principal, Smita Vishweshwar, along with Dr. Vijayalakshmi, Sempulam Sustainable Solutions started a  farming programme for the children three years ago. As a part of the curriculum, our children visit the farm at Sukkankollai village, near Maduranthagam town every month, and cultivate new paddy, prepare organic manures, and also enjoy the harvest of the paddy.
On Friday evening, the children will be sharing their farm stories for the academic year 2019-2020.
Photo: Sprouts Montessori school