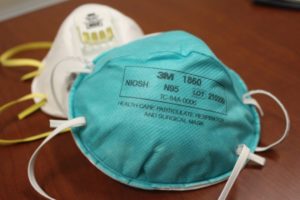 Following the outbreak of Coronavirus in India, the local medical shop owners in Mylapore say the surgical face masks are in demand.
Said Jayanthi, a medical shop owner at Mandaveli, "People started buying the two-ply face masks (green coloured surgical masks) right after the virus began spreading in China. The demand increased after it broke out in India."
She said demand is mostly from people visiting foreign countries.
"However, we are out of stock now. Even the supply is scarce." On Thursday, at least three medical shop owners in South Mada Street said the surgical masks were out of stock at their shops. They too confirmed that the demand has been high since the past few weeks.
The Apollo pharmacy at this Street sells the N-95 masks, that are used for protection against the virus.
A staff here said that all N95 masks they had stocked had sold out. "Some 200 sold out today. The number includes the masks sold at our outlets in other parts of the city," he said.
Coronavirus first broke out in China's Wuhan city in late December 2019. The virus later spread at countries including Italy, Iran, Germany and Spain.
India reported its first Coronavirus case at Kerala in February, this year. Currently, it has been reported at places, including Kerala, Delhi, Agra, Telangana and Jaipur.
Photo courtesy : latimes.com