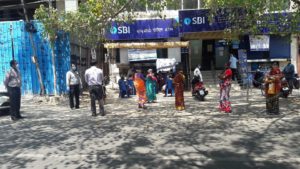 Nationalised banks in the neighbourhood are issuing Rs.500 to women account holders of Pradhan Mantri Jan-Dhan Yojana (PMJDY).
The amount is credited to Jan Dhan accounts of underprivileged women as a part of the central government's relief package in view of the lockdown due to Coronavirus outbreak.
Recently, the beneficiaries of this scheme were standing outside State Bank of India (SBI), on C.P.Ramaswamy Road, Alwarpet to withdraw this amount. They also followed social distancing norms as specified by the bank
Said an official of SBI," As per the Centre's guidelines, Rs.500 will be provided to these beneficiaries for the next three months starting from April."
He says that the amount will be directly transferred to the beneficiary's account. "They can also go to their respective banks/ATMs to withdraw the amount," he says.
For details contact SBI, C.P.Ramaswamy Road branch at 24996081. People are advised to call their banks before dropping in as working hours may differ.
Pradhan Mantri Jan-Dhan Yojana (PMJDY) is a national mission for financial inclusion. It's objective is to ensure affordable access to financial services, like banking/ savings and deposit accounts.
Picture courtesy: Bhaskar Sheshadri