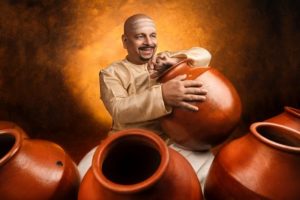 Suresh Vaidyanathan, a well known ghatam artist and a resident of Marwadi Thottam, Mylapore, says this lockdown is a good opportunity to bring out the best in musicians.
He says, "For a musician to grow, he has to see internally. And when he sits down alone, his creativity increases. That way this lockdown has helped me bring out new ideas".
Suresh has more than 60 students all over the world. He says, "The first thing that I did when the first lockdown was announced was to organise a talk session with my students. I told them what they could do to stay motivated and also gave them a free lesson. I then drew up a schedule for online classes for all of them. Later I invited all the musicians I knew for a chat. That had a lot of benefits as we started learning from each other and shared ideas".
Suresh says the lockdown has given him the time to work on his new jazz album through his group Nandi. He says, "I am collaborating with two French musicians and we have released two albums already. I have also been able to work on my Ph.D on 'Evolution of ghatam through the ages' in addition to composing new melody and rhythm compositions which I plan to use at kutcheris later".