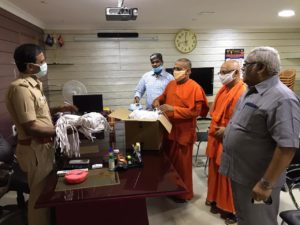 Sri Ramakrishna Math, Mylapore, has started producing cloth masks to be distributed to police personnel, and civic workers who are working on the frontline to prevent the virus spread.
The masks are produced at the Math's rural welfare centre at Meyyur village, that is 50 km from Chennai.
Says Swami Naravarananda, PRO of the Math, "As masks are in demand, we started producing them in large quantities at our welfare centre in Meyyur village."
He says that members of self-help groups at this village stitch the masks in batches. "We later distribute it to police personnel and Corporation workers. The ones involved in stitching masks are also given remuneration for their service."
Till now, he says they have distributed more than 3000 masks to the frontline workers and others who are involved in public service.
"Today, we also distributed masks, provisions and hand sanitisers to porters and auto drivers at Egmore Railway station," he says.