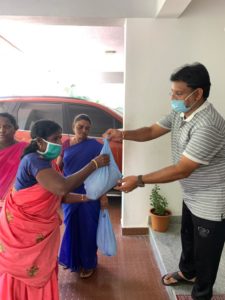 The residents of Karpagam Avenue in R.A.Puram are doing all they can to help the seniors of this area during the lockdown. The colony has some 200 families spread across 5 streets.
Says Bindu Veerabahu, a resident, "There are over 40 seniors in our colony. And they were unable to step out after the lockdown. So a group of residents volunteered to reach out to them."
She says that the phone numbers of all volunteers are given to the seniors. And the seniors are asked to call the volunteers for any kind of help be it for buying medicines or bank related works.
We have also identified a local pharmacy that can door deliver medicines to them, she says.
The residents along with the local association KARA (Karpagam Avenue Residents Association) are also helping Conservancy workers with provisions and masks.
Says Bindu, "Recently, Mr Prabhu, the secretary of our association (KARA) gave provisions including rice and dal for some 8 conservancy workers who work at our street. We also provided masks to them."
The association has also collaborated with the Conservancy workers to carry out cleaning and disinfection at their streets every fortnight."We also provide tea, breakfast and lunch to these workers while they are at work," she says.
Photo Courtesy: Bindu Veerabahu