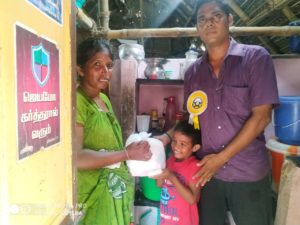 A local car drivers association in R.A. Puram is putting in all efforts to help its community in this lockdown.
Tamil Nadu Car Otunar Nala Sangam has some 2,500 members across the city.  Private car drivers and those working for app-based pickup/drop services are a part of this group.
After lockdown, though these drivers lost their livelihood, they are putting in funds to help each other during the crisis.
Says Selvam, state president of this association, "All of us chipped in money to help each other in this crisis. From the association, we are distributing rice, dhal and other groceries to all our members."
"Ravi Nandyala from Jeth Nagar Residents Association is also supporting us with groceries and food."
The driver's association is also helping auto drivers and daily wage workers in the neighbourhood. Selvam says, "We recently distributed rice and dhal to some daily wage workers and auto drivers in R.A.Puram."
Selvam also volunteers to door deliver medicines to senior citizens who are unable to step out. Seniors who may need his help can reach him at 9884688261.