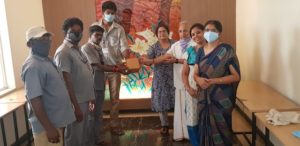 The community at Shanthi Gulmohar Apartments in Mandaveli have gifted N95 masks to 15 Chennai Corporation employees who work in this zone.
This was an act of appreciation for their services and to stay safe during this pandemic.
This donation was given in the presence of Narayanan (president of SGOA), Lalithaa Mahesh (secretary of SGOA), Bhuvana Rajaraman (treasurer of SGOA) and Anuradha Sambasivam ( Joint Secretary of SGOA) .
– Report by Lalithaa Mahesh / secretary, SGOA