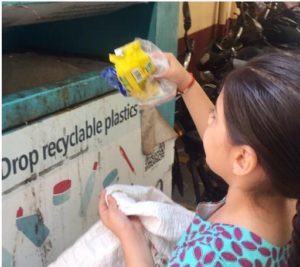 The residents of Anand Flats at Ranga Road, Mylapore who have been segregating their waste for quite some time now continue to do so in spite of the lockdown.
Koil Raj. D, a committee member in charge of waste management and gardening says, "We have about 3 Urbin bins at Ranga Road, one of which is inside our apartment complex (seen in the picture). All the residents of our flats and our neighbours too drop dry waste like plastics, metal and paper into these bins."
With respect to wet waste, he says the Ranga Road Residents Association members are in the process of finalizing the details of pickup with the Corporation officials. "We have asked the officials to send a tricycle a couple of times a week to pick up the wet waste from apartments which don't have the facility to compost the waste at their campus. Talks are still on, we hope to decide on something soon".