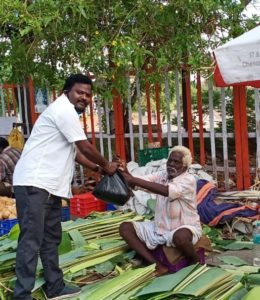 This hawker is reaching out to underprivileged street vendors at South Mada Street, Mylapore.
'Market'Jagan is a vegetable vendor who sits outside Hotel Vasanth Bhavan on this street.
He recently gave provisions (rice, dal, oil) to an elderly couple who sell banana leaves here.
Says Jagan, "The elderly couple are on their own. They manage to make a living by selling banana leaves. However, after lockdown, they were finding it hard to make ends meet as sales were low. So I gave provisions to them."
This resident of Adam Street says he has also been distributing masks and provisions to other vegetable vendors and needy people in the neighbourhood.
Business is dull for Jagan too. But he wishes to continue helping people in small ways he can.