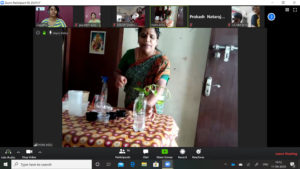 Youth Empowerment Services (YES),  the vocational training unit of V-Excel Educational Trust in Mylapore is now encouraging its trainees to grow their own veggies.
Home gardening was the topic of their recent online sessions where young adults with special needs were briefed on tips to grow veggies using items available at their homes.
Says Gayathri Suryanarayanan, vocational placement coordinator, V-Excel, "Following lockdown, we could not have regular classes. So we started engaging our trainees online via Zoom. Regularly we would assign them activities they can do at home. We chose home gardening as one of the activities as growing plants can be therapeutic to our trainees."
She says that around 18 trainees joined for the session along with their parents.
"Everyone got very excited as they could use their own veggies for cooking. Our trainer shared useful tips through which the trainees could use items available at their homes to grow plants like coriander, curry leaves, spinach and tomato."
Parents of the youngsters too chipped in to provide tips. "They suggested using coffee powder and vegetable peels as manure for these plants. Some also said we could dry the neem leaves and use it as compost/ soil for the plant."
Gayathri shares that a couple of their trainees have already started growing veggies. "Within a few days, our trainees shared pictures of the little plants they had started growing on bottles, mugs and even on buckets. We felt very happy to see them, "she says.
The YES unit provides vocational training to young adults with special needs in areas like baking, confectionery making, basic computer skills and later offers them appropriate job opportunities. It is based in Luz Church Road, Mylapore.
Picture Courtesy: Facebook page of V-Excel Educational Trust