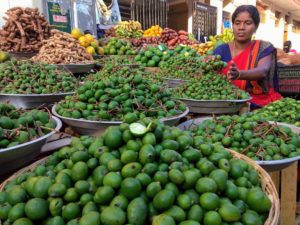 Though the vadu manga season is still not over, only limited quantities of the baby mangoes are available for sale at the vegetable market in South Mada Street, Mylapore.
Hawkers say the vadu manga sales dropped after the lockdown. And hence they no longer buy the mangoes from the wholesale market to sell them here.
Says Kavitha, a hawker who sits at the pavement near The Mylapore Hindu Permanent Fund Limited on this street, "After the lockdown, people are not keen on buying vadu mangas. Most of them buy only essential veggies. So I'm not buying vadu mangas from the Koyembedu market to sell here. If customers ask I stock them in limited quantities."
Another hawker Kabali also says he stocks the vadu mangas in limited quantities as the sales are low.
The vegetable market here is open in the mornings from 6 a.m. to 1 p.m.
Picture taken in early March; used for representation