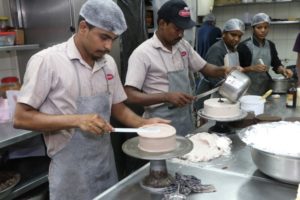 Limited manpower has not deterred Winners Bakery at C.P. Ramaswamy Road, Alwarpet from serving the community in this lockdown period.
Following Chennai Corporation's announcement that bakeries are allowed to function between 6 a.m. and 1 p.m., this bakery chose to open for sales.
However, they had a big challenge at hand – of running the bakery with limited staff.
Says Siddik, chief chef who manages the bakery, "It is very challenging to run the bakery now as we have limited staff. Following lockdown, most of them left to their native places. They could not return all of a sudden as there is no transport facility."
The bakery along with Chennai Corporation, Chennai Culinary Institute (run by Hot Breads group), and the Rotary Club of Madras East (RCME) also runs a vocational training centre to train underprivileged youths, school dropouts and victims affected by domestic violence in baking.
The trainees are trained at the bakery and are later provided with job opportunities. However, Siddik says the trainees too had gone home – so those hands are missing.
The bakery that used to function with some 38 staff, now has 10 workers.
Siddik says, "As we had only a small team, we decided to have only basic items like bread and dry pastries for sale. And stopped production of cream cakes and cream-based pastries. Also, the demand for such items is less now."
This way, he says the workload on their team is low as only bread has to be made daily. "Other items like cookies can be made once in a week. Also, sourcing ingredients for these items is much easier as they are supplied regularly."
The bakery is also doing its bit to help the homeless people sheltered at Corporation's shelters across the city.
"Regularly, we also provide breakfast/dinner to some 2000 homeless people at Corporation's shelters including ones at Mandaveli and Karaneeswarar Pagoda Street. Along with the staff of Hot Breads we cook variety rice, pongal and upma at our bakery and pack them to distribute at the shelters."
Proceeds from sale of items at the bakery go towards its charitable activities.
The bakery will be open from 8 a.m to 1 p.m. daily. At 15A/9, C P Ramaswamy Road, Alwarpet. Ph: 7722931097, 4553 5262.
Picture: File photo of trainees working at Winners Bakery