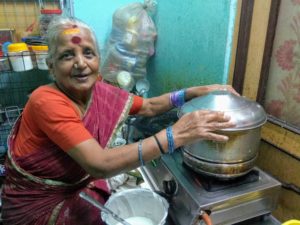 Low patronage and hike in prices of essential veggies has not stopped Easwari Mami from running her little mess off Chitrakulam West Street in Mylapore.
A resident of Venkatesa Agraharam Street, Easwari Mami, has been running this mess for several years now.
Since the lockdown, the 70-year-old has been serving freshly made tiffin(idly, dosa, upma), lunch and snacks for her regulars. Now, despite some challenges, she continues to be at it.
Says Easwari Mami, "My customers have dwindled due to lockdown. Only 10 are buying food from me now. Also, as prices of essential veggies have almost doubled, I'm unable to purchase many veggies for cooking."
"However, most of my customers are seniors who depend only on my food. So I cannot stop my service at any cost. Also, they are all very understanding. They don't complain if I make only one vegetable for lunch," she says.
Easwari Mami is also reaching out to street dwellers who might need some help. "Every day, I also give lunch to some street dwellers on the Mada streets," she says and adds, "I believe one has to help people as much as he/she can."
This month, mami is also making murukku, tattai and seedai for sales.
People who may need these snacks may call her at 9381226765
Her shop is open from 9 a.m to 12.30 p.m. and from 4.p.m. to 8.30 p.m.