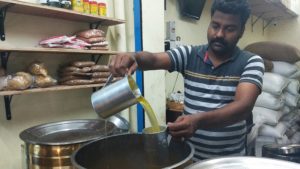 Despite being short-staffed, Amutham wood pressed oil store in Mylapore continues to serve its customers during the lockdown period.
The popular oil store that sells groundnut, sesame and coconut oil, prepared from their own vaagai mara chekku has around 600 regular customers in the neighbourhood.
Says Janakiraman, one of the owners of the shop, "Following the lockdown, all our staff went to their native places. But we could not close down, as we have a huge demand from our regular customers. So I along with brothers Sivashankar, and Satishkumar were running our outlet at R.K.Mutt Road all by ourselves."
Now, to satisfy customer demand, the owners have also opened their unit at Mathala Narayanan Street. Says Janakiraman, "Many customers requested us to open this outlet as they were unable to walk till our store at R.K.Mutt Road."
With no staff at hand, Janakiraman runs this outlet all by himself. "I come as early as 4 a.m. and start oil preparation. The production is low as I'm the only person working here. Hence, we are open only for limited hours in the mornings till stocks last."
In addition, the owners are also facing a challenge of increased raw material cost. "The cost of raw materials (groundnut, sesame) has increased rapidly post lockdown. However, we have not raised the selling price, as we don't want to burden customers during the crisis time," he says.
The shop takes all precautions to prevent virus spread. "I wear a mask. And customers are also asked to wear a mask and maintain social distance."
At 36, Mathala Narayanan Street, Mylapore. Opposite to Annapoorani sweets shop. Timings: 9 a.m. to 1 p.m. Sesame oil is priced at Rs. 340 /litre. Coconut and groundnut oil is priced at Rs. 240,  and Rs. 320 per litre respectively.
Their store at R.K. Mutt Road (next to Brown Tree departmental store) is open from 8 a.m. to 5 p.m.
For details call 9842033815.
Picture: file photo of Amutham shop