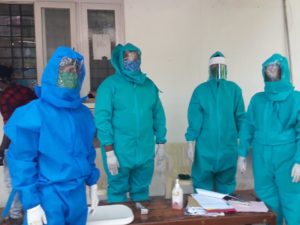 Dr Ranga Nursing Home on Devanathan Street, Mandaveli is taking several precautions to prevent Coronavirus spread at its premises.
The hospital stands next to the Containment zone at South Trustpakkam Street, where a virus case was reported earlier.
Says Dr Radha Madhavan, senior gynaecologist, who heads hospital operations, "As asymptomatic persons can also be virus carriers, we are taking all precautions to avoid the virus spread here."
She says the entire hospital is disinfected daily. "Right from the watchman to doctors, all our staff are provided with personal protective equipment (PPE)."
The hospital also insists its patients to compulsorily wear masks. "Outside the hospital, we have provided a washbasin for patients to wash their hands before entering the hospital. Inside the consultation room too, patients are asked to use hand sanitizer. We also disinfect the consultation room and the chair used by patient after every consultation."
The multispecialty hospital has also limited its operations. The senior doctor says they run only pediatric, gynaecology and diabetes departments now.
The hospital takes limited patients only through appointments. For appointments contact 24937060.
At 4/30, Devanathan Street, Mandaveli (Near Mandaveli Bus stand)
Picture Courtesy: Bhaskar Sheshadri