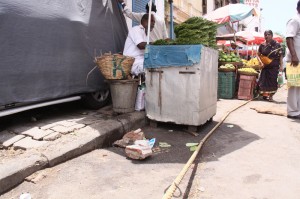 Jayashree Sriram of Papanasam Sivan Salai was a regular shopper on Mylapore's mada streets. But she stayed home for two whole months, letting her husband do the 'must do' shopping.
Last weekend, Jayashree ventured out to the mada streets and came face to face with a changed Mylapore.
This is her diary note –
It has been more than two months since I stepped out of the house. My husband usually goes once in a week to buy vegetables,provisions and other essentials and he has been extremely cautious while going out and after coming back.
He wears masks and gloves and tries to go early say around 7.30 am in order to finish shopping before it gets crowded. Also, immediately after coming home he cleans the items bought and takes a bath.
I decided to go with him last weekend as we had to buy quite a lot of things (provisions and vegetables).
It was around 8.30 am. Our purchases were centered around the mada streets. I was really at loss of words to see hardly ten people on the mada street which otherwise would be so crowded that there will be hardly place to walk freely.
Almost all the shopkeepers in the shops that were opened (since only few of the shops were opened then) had worn masks and so did the people who came to buy items. Some of them had worn even gloves.
It was indeed a pathetic sight to see all the shops on the platform closed. The usually crowded stores ones like A2B and Suriya Sweets hardly had customers.
The temples which were always packed with devotees remained closed which brought dullness to the streets.
One thing though brought a smile to my face despite this gloomy picture – I came across shops selling colourful, printed masks. Made me realise how people make the best use of new situations.
Guess henceforth masks will be the new form of lifestyle for everyone.
Photo used here of South Mada Street was shot last year. Used for representational purpose only.