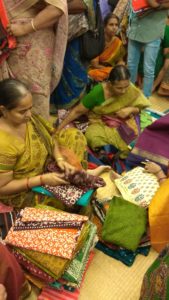 From selling saris via WhatsApp to mulling over the launch of its new web site, Rangachari Cloth Store in Luz is slowly adapting to a new business model this lockdown.
Ideas are being debated even as the owners of this famed shop awaits the government's orders on large retail business.
The store based in Luz Church Road sells a variety of saris ranging from cotton to silk and fancy saris. Started in 1945, it has an extensive customer base and its big sale is for Sungudi cotton saris.
Says T.K. Balaji, the manager of this store, "This year, due to lockdown, we lost the Tamil New Year sales, which is the main business season for us. Also, for a business like us that is completely dependent on sales of cotton stuff (saris, nighties), a lockdown over the summer months is a major set back."
Balaji says paying the rentals is now an issue. Plus, the store has not been able to pay the traditional weavers. "We received our last stock in February. But as there were no sales for three continuous months after that, we have not been able to pay hundreds of traditional weavers who send us saris."
However, their business seems to be reviving now. Slowly. Rangachari's customers, especially the seniors have started requesting them to send cotton saris/nighties via courier.
"Seniors find our cotton nighties very comfortable."
So what must clients do to order now?
Balaji says he/she can send their request to them via WhatsApp. "Following, the request, we will send them pictures of saris/nighties, so they can select their favourite design. Later, we pack the selected ones and courier it to their address."
Though shoppers cannot get the touch and feel of the saris by shopping this way, this method helps in satisfying the needs of customers this summer.
The shop also plans to offer door delivery once the lockdown eases and their staff return.
Rangachari does not expect anything great to happen in 2020.
"People are afraid to come out in the current scenario. We are planning to launch a website and take the business online if the situation continues. But as we are dependent mostly on senior customers, I don't think online will work fully for us."
The shop is at 55, Luz Church Road, Mylapore. For details call 9444475804.