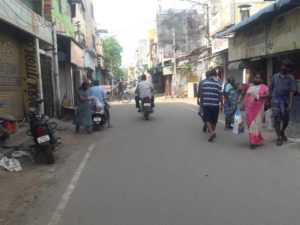 Shopkeepers on Mylapore's Bazaar Road have come up with a new regulation to prevent crowding at their shops.
They are now open for business only on alternate days.
This in spite of the Tamil Nadu government allowing shops selling essential commodities to remain open on all days.
Bazaar Road market has dozens of shops selling groceries and vegetables in wholesale and retail.
The new regulation was implemented here a few days ago with the help of local police.
Says Chandrashekar, the head of Mylai Vyabarigal Sangam, who runs a grocery store here, "We have been witnessing extensive crowding since the lockdown. Most of our shoppers are from the slum areas like Meenambalpuram, where at least 12 virus cases have been reported. They visit the market every morning only to buy one or two items that too in limited quantities. And then they hang around the market till 12 noon."
Chandrashekar says it was becoming highly difficult for them to regulate social distancing at the shops. "Even after repeatedly telling them not to crowd, they continue to flout the physical distancing rule. The police had to be here always to regulate the crowd. Hence, we decided to keep our shops open only on alternate days."
However, he says that too has not helped. People still crowd on the alternate days when we are open. "But we plan to continue this regulation for one more week and see how it goes."
Picture courtesy: Bhaskar Sheshadri