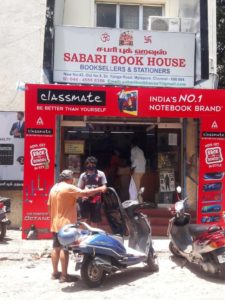 One by one, standalone and small stores across the Mylapore area are opening for business. And though they do not force shoppers to observe social distancing, there are no large crowds at any shops.
This is what Mylapore Times observed during a short coverage of areas on Thursday.
From hardware and cement shops to gadgets, electrical and even clothes shops, these were all open.
There was confusion about Airtel stores; while the company sent out messages saying local stores were open, in some places they did not open fully.
Even books shops, like Sabari on Dr. Ranga Road and Senthil Lending Library in R A Puram opened for business.
Photo; Nityanandan
(( )) IF YOU ARE LOOKING FOR SPECIFIC NEEDS you do not find open locally, let us know and we will locate one.