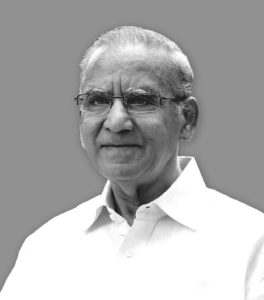 On April 22, Dulichand Jain who was the visionary of Karuna Clubs in more
than 2400 schools in India, left his mortal body.
Through Karuna Clubs, he had planted the seeds of non-violence and compassion in lakhs of children.
He led a life of complete simplicity and peace, and passed away soulfully at his home in Chennai.
Dulichand Jain was an eminent writer of Jain philosophy and religion in English and Hindi. Some of his books are — Pearls of Jaina Wisdom, Jinavani ke Moti, Springs of
Jaina Wisdom, Universal Message of Lord Mahavira, and With the Ferryman. In these books, he emphasized on humane values. His numerous articles have been published in many well-known journals and magazines.
He was also deeply committed to Jain sadhus and would extend dedicated help to
them in bringing out many books. He was the worldly uncle of Sadhvi Siddhaprabhaji M.Sa (sadhumargi).
He has been honored with many awards and titles across the country, such as
Jain Ratna Award, Shakahar aur Jeev Daya Puraskar, Acharya Hasti Ahimsa Award,
Karuna Ratna Award, JITO Star Award, Lifetime Achievement Award, Jain Seva Ratna,
Centenarian Seva Ratna Award, Samaj Bhushan, Rajasthan Shri and many more.
He was invited by the Federation of Jain Associations of North America to deliver
two lectures on Jainism at the 2001 World Conference held in Chicago.
He was the Chairman of Karuna International, Vice President of Vivekananda
Educational Society, President of Vivekananda Educational Trust and also Trustee of
Vivekananda Vidya Kala Ashram. He was instrumental in opening several schools in
Chennai.
Apart from his achievements, he was admired by his loved ones for his
simplicity, way of life, and ethical values.
He is survived by his wife Anoop Jain, two sons Prabodh-Tara and Pranav-Sandhya, daughter Pratibha-Mahendar Chordia, and five grandchildren.
Tel: (91) 94440 47263. Email: dcj.chennai@gmail.com.
Address:  Anugriha,  70, T.T.K. Road, Alwarpet,
Chennai 600018,  Tamilnadu.
Tribute written by Prathiba Jain