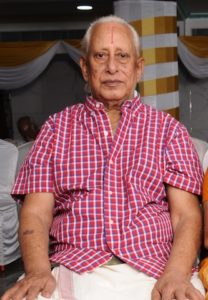 V. Narayanan, a resident of Mylapore for the past 23 years, passed away on May 29 and the final rites have been completed on the same day.
He had his early life and education at Mela Thiruvenkatanadhapuram (Tirunelveli district) and thereafter, at Big Street, Triplicane.
He was locally well known as the shorthand instructor at Narayana Institute, Triplicane and was an active member of Sri Panduranga Bhajana Mandali. He also worked at Easun Engineering.
He is survived by his wife Rajalakshmi, sons Venkataraman, Venkatakrishnan, Venkatasubramani, and Venkataraghavan and their families.
Home Address: T4 / Madhurams Apartments, 19 Balakrishna Street, Mylapore, Chennai – 600004.
Ph.: 24671602/ 9941751118.