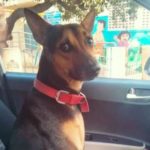 Volunteers at the Banyan shelter in San Thome are looking for their pet dog that has gone missing on Thursday. 8-year-old Appu is a male dog that wears a black collar.
The shelter that houses mentally challenged men has been taking care of this dog since the past five years. And Appu seems to be dear to all its members.
Says Adarsh, the Coordinator of the shelter, "Appu was very dear to all of us, especially to the inmates of our shelter. It never barks and is very friendly to even strangers. He is the security guard for our shelter at night."

A few weeks ago, this shelter had to temporarily shift to Chennai Corporation's high school at Sringeri Mutt Road as some repair works had to be done at their San Thome shelter. And Adarsh believes Appu would have wandered off in search of their previous location.
The shelter volunteers say the dog responds to the name 'Appu'. Mylaporeans who find the dog may contact the shelter at 9884160884/9840964352.