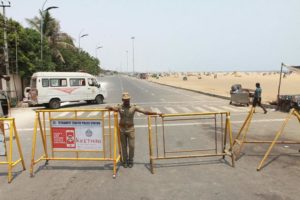 A request made by an association of residents of Boat Club area in R A Puram to the city police commissioner asking him to stop non residents from walking or jogging in the area's streets /roads has stirred up a controversy.
People have questioned the community's move, saying it has no right to prevent people from using public spaces for walking/jogging and that the attitude shows up the 'class' and 'exclusiveness' mindset of the Boat Club community.
Obviously, the community wants its idea of 'containment' to be enforced in virus time.
In the past fortnight, more and more people are getting on to quiet roads and avenues to exercise and walk. Boat Club has been a favourite destination through the year, as is Nageswara Rao Park and The Marina.
Walkers are also now seen, less in number though on the mada streets around Sri Kapali Temple, in Mandavelipakkam and in Abiramapuram. "But these are few in number," says community activist C R Balaji."A good nmber frequent the large Alphonso playground ( on Canal Bank Road)."
Many people have mailed to Mylapore Times asking when the local parks and the Marina will be open to the public.
Photo used here was shot soon after the state shut down Marina beach following the lockdown