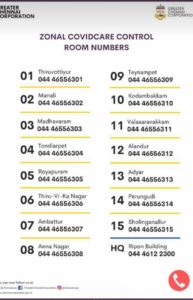 In an unique initiative, Chennai Corporation has roped in its school teachers to provide telecounselling to coronavirus patients across the neighbourhood.
The service is provided via its zonal Covidcare control rooms.
Corporation school teachers from across the city operate from these control rooms and call up COVID-19 patients to provide them counselling.
Says a Corporation school teacher, who is on duty for the Teynampet zone, "As COVID-19 patients are kept under home-quarantine, many a time they tend to feel anxious or fearful. Hence, we call each patient and provide counselling, so they can remain strong through the two weeks of quarantine."
"We tell them that this phase is just temporary and share words of positivity and cheer. It's a way of reassuring them that we are in this together."
The teacher says that the virus-positive patients feel happy when they get called. "Patients say they feel very good that the Corporation is voluntarily calling them to check on their health. We too feel happy doing this service."
The teachers also provide solutions to any other queries that COVID-19 patients may have.
Teachers who handle classes 8 and below, who are not assigned to take online classes are given this work. Groups of teachers work in three shifts to provide this service 24*7.
COVID-19 patients and people who may have virus symptoms may reach them at the following numbers.
Helpline for Teynampet zone, under which the Mylapore area falls is 46556309.
Helpline for Adyar zone, under which south end of the neighbourhood falls is 46556313.