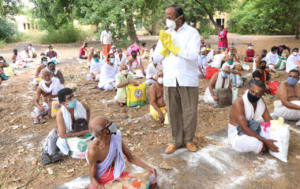 Some 80 purohits were given rations and dry food at an event hosted by Mylapore MLA, R. Nataraj.
Held on Friday morning, June 12 inside the campus of Queen Mary's College, Mylapore it was well organised – spaces marked out far apart for each of the purohits who all hailed from the Mylapore zone.
There was no scramble or rush ; everything was held in an orderly manner. The MLA was present and he thanked the purohits for their services.