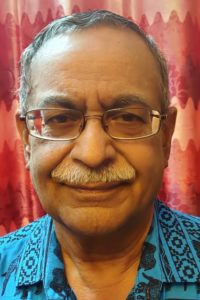 Meet Dr R. Devakanthan, the only doctor serving the community at Srinivasapuram in this lockdown period.
Srinivasapuram is a densely populated colony located off the Loop Road in Marina. It has over 1500 families. Mostly fishermen, daily wage earners and domestic helpers reside here.
Says Kavitha, a resident of Srinivasapuram, "We have a few clinics in the neighbourhood. But after lockdown, barring the clinic of Dr Devakanthan, others were shut.  So this doctor's service is a great help for us now."
Kavitha says the doctor takes extra care to treat all his patients. "He is very polite. When the patients are more, he would even extend his service two hours after the closing time. He also charges a very nominal amount of Rs. 150. so it is affordable for us."
Dr Devakanthan attributes his service during the lockdown to the attachment he has for this community.
Says Dr Devakanthan, a general physician, "For almost 30 years, I was a resident of San Thome. At that time, I would regularly watch the fisherfolk, lower and middle-class families of this colony. And over time I got attached to them. Incidentally, when I started practising in the year 1990, there was no clinic in this neighbourhood. So I opened mine here."
And now I continue my service due to this same attachment, he says.
On a normal day, the doctor would treat at least 30 to 40 patients. Now, the number is a little high. "I treat close of 50 to 60 patients a day. Till now, most of them are having only general complaints like fever, cough or a common cold. No one I saw had virus symptoms. If I come across someone with virus symptoms, I would refer them to Government Hospital for testing."
However, at the clinic, Dr Devakanthan says all precautions are taken to prevent the virus spread.
"I have a lady assistant who disinfects the clinic and ensures that patients wear masks and follow social distancing. I too wear mask and gloves during the consultation."
Dr Devakanthan is also a visiting physician at St. Isabel's Hospital in Luz. Says the doctor, who now resides at Chrompet, "I admit the patients from my clinic at St. Isabel's whenever required."
His clinic is near the MTC bus terminus at Foreshore Estate. Open from 4 pm to 8 pm on all days except Sundays. Ph: 9841578807.