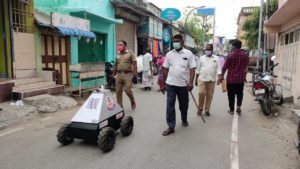 Mylapore police have started using a robot called 'Robot Cop' to regulate social distancing in the neighbourhood.
On June 19, the police deployed it at the vegetable market on Mylapore's mada streets.
On sensing people standing close to each other at the market, the device sent out audio messages that said 'maintain social distancing'.
The audio instantly stopped when people moved apart.
Designed by Bengaluru-based startup company RoboThoughts, the device has four wheels and it runs on the ground.
Its unique features include wireless transmission up to 1 kilometre, siren and LED display, two-way intercom communication, and camera surveillance.
Says Harish Vardhana, co-founder of RoboThoughts, "Being a technology startup specialised in robots, we wanted to help the city police in COVID-19 surveillance. Hence, we designed this device, so police can deploy less manpower to monitor containment zones."
Speaking on the working mechanism of the device, Harish says, "The CCTV camera mounted on top of the device activates the audio message when it senses people standing less than 20 metres apart. The visuals captured by the camera are also streamed live to the police control room."
The team is also working to include audio messages in Tamizh, so the awareness reaches a larger public.
The device was first launched in late April at Meenambalpuram slum, behind the city centre mall, in Mylapore after it turned into a virus 'hot zone'
Says Harish, "As the slum had narrow lanes, police personnel found it difficult to move inside the area, since there was a high chance for them to get infected."
So, we developed the device in such a way that it could travel to narrow lanes. It acted as an intercom between police and residents then, he says.
But now, as policemen are facing difficulty in regulating social distancing, the team has upgraded the robot with artificial intelligence technology to include this feature.
Police run the robot using a remote control. It can be used continuously for two days, after which it requires four to five hours of charging, Harish says.
Soon, the team at RoboThoughts will also upgrade the robot for facemask detection. "This will help police to easily identify people moving without masks at public places."
'Robot Cop' is deployed on a pilot basis in Mylapore. Based on the success of this model, the police plan to implement it across the city.