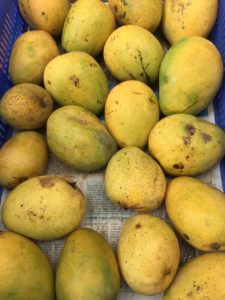 Organic Banganapalle mangoes have arrived for sale at The Shandy store off Luz Church Road in Mylapore.
The mangoes, grown at The Shandy's farm in Punnamai Village, Cheyyur Taluk of Tamil Nadu are devoid of any pesticides/fertilisers.
Says Hari Sethuraman, one of the owners of the Shandy, "This year, though the yield has been less, the quality of mangoes is very good. We received a fresh stock of Banganapalle just yesterday, and we have already sold off over 70 boxes (each with a few kilos of this mango) across the city."
A kilo of Banganapalle mango is priced at Rs.145. The store door delivers the mangoes via Dunzo.
To order WhatsApp 7708612348.
The store is also open for sale from 9 am to 2 pm during the intense lockdown. At Luz Church Road next to M.CT.M. school.
Picture Courtesy: Hari Sethuraman