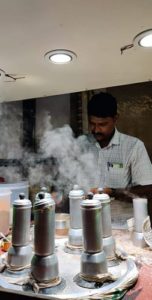 "With no business due to lockdown, I have now taken up farming for my survival," says Govindaraju, the owner of famous puttu shop, that used to run at the pavement off North Mada Street in Mylapore.
Called 'Royal Puttu', the shop used to sell a variety of puttu made of millets like kambu, kelveragu, ragi, godumai and rice-red.
Jointly run by Govindaraju and his sister Yamuna, the shop was the go-to destination for Mylapore's puttu lovers. Everyday, it used to be buzzling in the evenings with people ordering three or four packets of their favourite puttu.
However, post lockdown, their business had to stop. Says Govindaraju, a resident of Adyar, "As we could not run our shop during lockdown, I went to my native village Vedaranyam in Nagapattinam district. But soon, as the lockdown kept extending I could not return to Chennai as there were no transport facilities."
Later, he says, they had an idea to prepare puttu from his sister's Adyar home and door deliver it to Mylaporeans. But then getting raw materials was a problem. "Our regular supplier would not deliver. And I too could not get my sister the required supplies as I was stuck in the village."
But the 32-year-old bachelor did not give up. He took up farming to support his family. "I had to support my parents and sister's family. Hence, I started farming. It was easy for me to learn to farm as farming was our family business some time ago. Locals too help me with the process."
Since I started, we have cultivated keerai, green gram and sesame from our land, says Govindaraju with cheer.
However, he says that farming does not provide them much profit. "The sales of the produce have been low due to lockdown. But we are happy we are able to earn our daily bread at least."
Govindaraju hopes to come back to puttu business whenever normalcy returns. "Hope the situation changes soon, " he says.
Picture features the Royal Puttu shop; Courtesy: https://lbb.in/