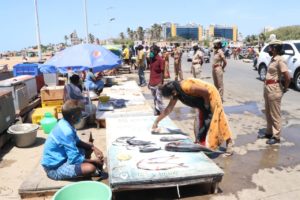 Women police attached to the Pattinapakkam took charge of the fish market in the open alongside the Pattinapakkam end of Marina Loop Road this Sunday morning and ensured that hawkers regulated their sales and shoppers stood far apart in queues.
This action follows the chaos that the stalls of popular fish market at the north and south end of the road is known for on weekends where people from this part of the city purchase fresh seafood.
The market, open all 7 days of the week was shut down in late April and mid May but when hawkers at the Pattinapakkam end began to sell fish daily, the bigger hawker community off Nochi kuppam, almost all women followed suit.
Last Sunday, a few thousand people crowded at both end of the road to shop for fish.
The police action is timely though late but in his hot summer, the weather will take a toll on the police as the morning wears out.
The hawkers were also out off Nochi kuppam but crowds were thin at about 10 a.m. There was no sign of police regulation at this end.