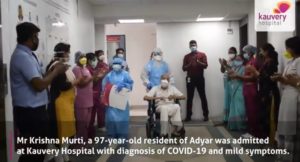 A 97-year-old man has fully recovered from coronavirus after undergoing treatment from Kauvery Hospital at TTK Road, Alwarpet.
On the day of his discharge, that took place this Monday, the hospital's staff including doctors, and nurses bid him a warm farewell by clapping their hands.
Sharing the story of his successful recovery, the hospital has put out a video on its official Twitter page.
On May 30, the senior resident of Adyar was admitted to the hospital with mild symptoms of COVID-19 (fever cough and breathlessness).
In the video, Dr Vijayalakshmi Balakrishnan, consultant, Infectious Diseases, Kauvery Hospital says, "Though the 97-year-old had comorbid conditions like heart disease and hypertension, he slowly started responding to our treatment. And after 5 to 6 days, his condition improved, and he stabilised."
Reiterating that throughout his stay at the hospital, the senior remained hopeful and optimistic about his recovery, Dr Vijayalakshmi stresses the importance of remaining positive always.
Photo: Screengrab from video of Kauvery Hospital