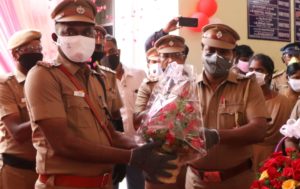 "Self-confidence and early detection of COVID-19 helped a great deal in my fast recovery," says S. Nelson, the Assistant Commissioner of Police (ACP) attached to Mylapore zone, who recently recovered from coronavirus.
On June 25, the ACP re-joined his duty. A small function was also organised at the police station off Kutchery Road to celebrate his recovery.
The officer, who was actively involved in monitoring virus containment zones in the neighbourhood tested virus-positive on May 30.
Says the 48-year-old ACP, "I started developing mild virus symptoms (cough, fever)  on May 28. So immediately I got myself tested the next morning."
Following this, he tested positive and was admitted to a private hospital in the neighbourhood.
"Initially, I was very afraid, as I had diabetes, which is a comorbid condition. I also had undergone angioplasty in the past. But later, as the treatment progressed, doctors reassured that it was a mild infection. And hence, I was relieved."
After three days of treatment at the hospital, as the condition of the ACP was stable he was asked to be in-home quarantine.
But soon, another problem crept in. His wife and elder son started showing mild virus symptoms.
"However, when tested, they did not show virus-positive. But, they both were also asked to be in-home quarantine. And my younger son, who is studying in 12 th standard, alone had to stay in a different room, as he did not show any symptoms."
Through the quarantine days, the officer says all the household work at his Virugambakkam home would be managed by the family. "As we all had only mild symptoms, we would together manage all household work. My younger son would be served food separately. We would all wear masks and take all precautions inside the house."
The officer's colleagues, he says would arrange the delivery of groceries and other essentials at his doorstep.
Doctors from the hospital would also check on his health regularly. "Every day, a doctor would speak with me for hours to understand my health status. We were also provided with pulse oxymeters so that we could alert the hospital if my oxygen level went down."
In five days, his wife and elder son got well. "And I too started recovering slowly. Though I had diabetes, as my sugar level was in control, I quickly recovered within 7 to 10 days. "
"During the entire time in isolation, I was confident about my recovery. Time and again, I would also reassure myself and my family that everything would be alright. This and early detection of the virus helped in my fast recovery."
To keep himself engaged, the ACP says he would watch all his favourite TV channels, and play games on mobile. "Towards the end of the 14 days, I would watch movies with the entire family. We would also search for unique recipes from YouTube and cook the food items together."
All this kept the atmosphere at home light throughout my recovery, he adds.