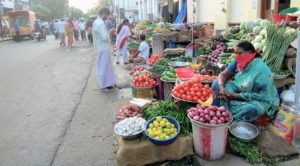 Following the intense lockdown, vegetable hawkers at Mylapore's South Mada Street say they are witnessing a dip in sales.
Says 'Market' Jagan, a hawker, who sits off Vasantha Bhavan Hotel at South Mada Street, "Even before the intense lockdown the sales were low. But now, only a handful of customers are coming to buy veggies from us."
The time restriction of sales from 6 am to 2 pm has also affected us, he says.
Jagan says the money he gets per day is barely enough for his everyday needs. "If the situation continues, I don't know how I will feed my wife and two small children."
Also, as I know only this business, I cannot take up a different profession as well, he says.
Hawker Kabali, who sits opposite the Mylapore Filter Coffee shop on South Mada Street says the veggies he had stocked on Saturday had to be wasted due to the complete shut down on Sunday.
Says Kabali, "Since this past week, the veggies I bought were not getting sold. And as we had to close down completely on Sunday, my stock of veggies worth Rs. 20,000 got spoiled. I had to put them in the dustbin."
Both the hawkers say that they wear masks and take all precautions to prevent the virus spread.