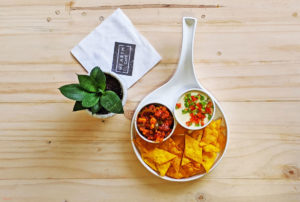 In an attempt to provide restaurant-like dining experience at home, Mearth Cafe in R.A.Puram has started offering personalised home deliveries.
Known for its authentic vegan and keto-based dishes, the restaurant started in November last year. It soon saw brisk business for four months, after which it had to close due to lockdown.
Now, with dining no longer allowed, the restaurant has introduced personalised deliveries to reach out to its customers.
Through personalised deliveries, staff from the restaurant will be delivering food at the customer's doorstep.
Says Arjun Dev, owner of the restaurant, "By sending our own staff, we create a personalised touch with customers. All the food items will be neatly packed in bio-degradable (one-time use) containers, so people can eat in the same."
One can also opt for customised orders. "For instance, to surprise their loved ones on their birthday, people may request us to add a special dish with their order. And we, in turn, will send the dish with a cute birthday note."
Through these little things, we are trying our best to give customers a restaurant like-dining experience at their homes, he adds.
Arjun says that proper hygiene is maintained while preparing the dishes. "All necessary safety protocols instructed by World Health Organisation (WHO) are strictly followed to prevent the virus spread. Temperatures of our staff are frequently checked. I also personally ensure if precautions are followed in the food preparation."
To order a personalised delivery, people may call or WhatsApp 9094949480
Payment can be made only via bank transfer, online mode (Google Pay, Paytm) or through the card payment. The restaurant is not accepting cash payment to avoid virus spread.
In case of card payment, Arjun says, the staff who goes for delivery will carry a card machine. "The card machine is also well sanitised before and after use."
Called Mearth (Mother Earth), the restaurant also takes special steps to remain eco-friendly. Some of its efforts include avoiding printed bills and reusing coffee residue as manure for its indoor plants.
Some of their popular dishes include tacos, burritos, pizzas (Hawaiian Pineapple) and fusion food items made out of Thai, Korean, Japanese and Chinese cuisine. Meal for two is Rs 800 (approx.)
The cafe provides personalised deliveries in and around 5 km radius of its location. Beyond that, door deliveries are offered via Dunzo.
At 58, 2nd Main Rd, RA Puram. Ph 9094949480.
Picture Courtesy: https://www.dineout.co.in/