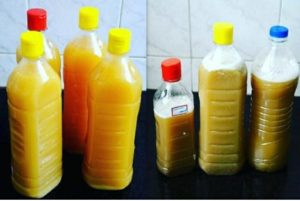 Sangeetha Saravanan, a resident of Thiruveedhi Amman Koil Street, Mandaveli first started selling eco-friendly plant and fibre products under the brand name 'Sangeeni's Raise The Earth' from Jan 2018.
Her first products were made out of clay, utensils and jugs sold out fast. Soon issues in shipping appeared, products were manhandled and they cracked up. Her customers, she says, now come home and pick up the clay products.
Sangeetha soon expanded to include cups, soup bowls and soap dishes made out of coconut shells, mobile amplifiers, tongue cleaners and water bottles made out of bamboo and clay Ganeshas for Vinayaka Chaturthi.
In March, when the lockdown was announced, she decided to sell vetiver (khus root) masks in addition to the other vetiver products like wall hangings, seat covers and body scrubs that she had been selling.
She says, "Vetiver has medicinal properties. The masks that I make have a layer of vetiver between two layers of soft cotton cloth. They can be washed and reused. They are priced at Rs. 150 per mask. I source them from a manufacturer in Coimbatore".
During the lockdown, she says the demand for her multipurpose citrus cleaners has also increased. "These cleaners are made at home with fermented citrus peels and jaggery only. They are very safe to use and are eco-friendly".
She also sells eco-box kits that are priced at Rs. 500. The kit will have a bamboo toothbrush, home made tooth powder, hand made soaps, shikkakai powder or shampoo and a vetiver scrub. The kit can be customized too, she says.
Sangeetha takes orders now, bulk orders too, but will be able to deliver only after the intense lockdown ends on June 30. For details contact her at 7358552372.