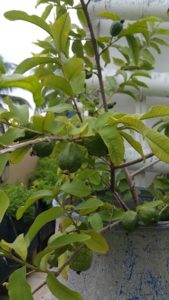 Sharfudeen. S, a resident of Rosary Church Street, San Thome has been growing organic fruits and vegetables in his terrace garden for more than five years now.
He says, "Before the lockdown, spending one hour in the garden everyday would be a challenge. But now I get to spend atleast three hours tending to the plants there. And since I haven't been able to go out much to buy fertilizers and pesticides I have been making them at home".
In addition to growing veggies like okra, chillies, cluster beans, bottle and ridge gourd and tomatoes, his garden also has pomegranate, mango, guava and sapota trees.
Sharfudeen is all about recycling and uses the waste from his fish tank as fertilizers for his plants. He says, "Rabbit waste is also an excellent fertilizer and I have been raising rabbits for this for quite some time. The waste from plants is used to feed them. This summer however, I have taken on a project to modify their cages and have given the rabbits to a friend. Once the cages are ready I will bring them back".
He has installed a drip irrigation system in his terrace. He says, "All the plants are connected to a 1000 litre sintex water tank. I have installed valves everywhere and when I open up the valve, water drips into the plant a few drops at a time. Any fertilizer that the plants need is added to the water tank. We have also connected the fish tank to the plants for the waste water to flow into it".
Mail him at sharf80@hotmail.com for details.
SHARFUDEEN'S TIPS TO KEEP PLANTS HEALTHY
1. Make your own fertilizer by grinding banana peels with egg shells.
2. Leave leftover cooked rice outside for about three days. The fermented rice can be ground, diluted and then used as a pesticide.
3. After planting seeds, place the pot in the shade till they start sprouting. Too much heat will damage the seeds.