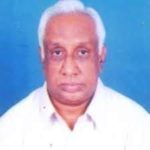 The family of late Fr Paschal Petrus who succumbed to the virus and passed away on the weekend and was buried in the diocese cemetery in Luz this week has its roots in R. A. Puram.
Currently, the late Catholic priest's brother, Joseph Petrus resides on St Mary's Road, R A Puram.
The Petrus family traces its life to Malaysia. When it came back to Tamil Nadu, the grand parents settled in the R A Puram area. The priest's father, Arul Petrus worked for MES ( Military Engineering Services) of the Indian Army at Fort St George.
The Petrus family belonged to Our Lady of Guidance church in Lazarus Church Road. Here, parish priest Fr. Rosario took young Pascal under his wings and introduced him to religious vocation.
The teen joined the junior seminary in San Thome and graduated to the main diocese seminary in Poonamallee and was ordained a priest of the Madras-Mylapore dioecese.
Fr Petrus served in many city and suburban parishes.
His brother says the priest led a simple life and focussed in renovating old churches, setting up or expanding church-run schools and improving the pay of the teachers there, creating special funds to sustain the teachers.
That is how he came to be general secretary of the archdiocesan team that managed all schools the church ran in the city and suburbs.
He also set up orphanages for children.
Said archbishop Rev George Antonysamy during the Memorial Mass held in the St Thomas tomb chapel at San Thome Cathedral on Friday morning in Fr Petrus' memory,"When the annual parish transfer time came in May, Fr Petrus said his bags were packed and he was ready to go wherever he would be posted. Such was the simple life he led."
Address; 72, St Marys Road. Phone: Joseph Petrus – 9940360097