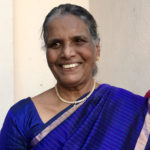 A resident of Mandaveli since the 1960s (except for two decades and a half in between, when she moved to suburban Madipakkam), Prema Samuel passed away on June 3, 2020 after a brief illness, at her residence.
She was 75 years old. The funeral was held on June 4, 2020 and she was laid to rest at the Quibble Island Cemetery.
Prema Samuel worked and retired as Deputy Librarian from The College of Engineering, Guindy, Anna University after 34 years of service.
Her late husband, M. Samuel Chandrakumar was a former Director – Telecommunication, Tamil Nadu Police. The family used to live at the Police Radio Quarters, off San Thome High Road in the 1980s.
An alumna of St. Raphael's Girls Higher Secondary School in San Thome, Prema Samuel graduated from SIET College in B.Sc Home Science and completed her Masters in Library and Information Science at Madras University.
Sewing, baking and studying the Bible were her favourite hobbies.
As a trained Librarian, Prema was diligent in her work, and she even started a library at CSI St. Thomas English Church and managed it enthusiastically.
A warm and caring friend to everyone who knew her, Prema Samuel is survived by her daughter Fabiola Jacob, Son-in-law Arun Jacob and granddaughter Natasha.
E-mail: fabiolaj@gmail.com
Tribute written by Fabiola Jacob