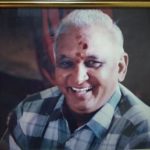 Well-known catering professional who went simply by the name of Chellappa passed away on June 10 evening. He was admitted to a Alwarpet hospital after he fell ill, was treated for the virus and succumbed to it.
The funeral rites are scheduled at 11 am on June 11 at the Mylapore crematorium and will be conducted as per regulations applied to people who die of the virus – only  a few people, in protective gear are allowed not-too-close access to the body and only for a short while.
The news of Chellappa's passing away brought in a flood of tributes from across Mylapore, the city and the world.
For, since the 1990s when he set off on his own his catering was not only was sought after but he was signed up by generations and across extended families – be it for weddings, shastiabdapoorthi or for socials.
Over time, his business expanded.
Chellappa was also known to be a devout person – devoted to Lord Ayyappa and Sri Kapali and goddess Karpagambal and those close to his family say he was also a generous benefactor – he not only donated to religious causes but also supported people and organisations that needed help.
He built a multi-storeyed house in Pitchu Pillai Street, near Sri Kapali Temple and operated from there.
Friends said that they had spoken to him in mid-May and he was as busy as he always is.
He is survived by his wife and two children.
Photo organised by Baskar Seshadri